Jewish Heritage Scholar in A&S Pursues Study in Development of Religions
By Richard LeComte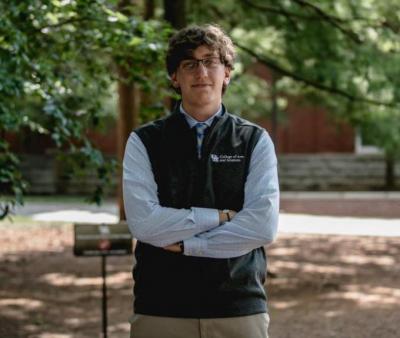 Austin Coke, a junior in the College of Arts & Sciences from Louisville, Kentucky, is a Jewish Heritage Fund for Excellence Scholar for fall 2020.
The Jewish Heritage Fund for Excellence Scholarship aims to encourage and support Jewish Studies on the University of Kentucky campus. Students selected to become JHFE scholars commit to completing a minor in Jewish Studies in a maximum of four years.
As part of the JHFE scholar experience, students participate in an original scholarly research project under the guidance of a Jewish Studies faculty mentor. The scholarship provides $4,000 a year of study for up to four years of scholarship support.
Coke is pursuing a dual degree in history and anthropology with minors in international studies, Jewish studies and world religions.
"While my studies within history are broad, I focus particularly on the Near East for its role in the development of Judaism and Christianity," he said. "In anthropology, I have developed a passion for archaeology and have gained experience in the field through my work on an archaeological dig at Tell es-Safi, Israel, in the summer of 2019."
Coke looks forward to working with Jewish Studies faculty to expand interest in the field at UK.
"Before my first semester at UK, I had little exposure to education concerning Judaism," he said. "I am interested in Jewish Studies because I seek to learn more about the distinct Jewish identity through the ages. Throughout my next years as a JHFE Scholar, I hope to develop connections with other students, Jewish Studies faculty and local Jewish communities. I want to learn more about historical Jewish thought and culture as well as contemporary Judaism. I am truly excited for this opportunity to further my education and work with professors and students who all share a similar passion for Jewish studies."